We are very pleased to announce that two Pratt lounges will be featured at this year's METRO Show. The lounges were designed by a team of faculty, undergraduate and graduate students from the Department of Interior Design at Pratt Institute in Brooklyn, NY, which is committed to social and environmental responsibility.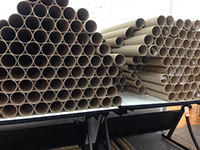 The lounges consist of two major elements - a seating scape composed of empty plotter tubes and a canopy formed from plastic bags filled with air. These combine to create a connection between fair visitor and the student/designers themselves.
The lounges were redesigned for this year's METRO Show, and mirror the show's mission of presenting a mixture of historic to contemporary, a cross-section of ideas/designs/genres. With their combined canopies and seating structures, they reflect both traditional decorative arts and contemporary functional objects.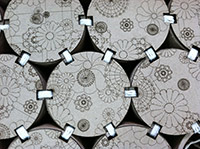 To create the seating elements, the designers repurposed the typically discarded cardboard tubes used in plotting the students' designs. The tubes are joined with hand-stitched twine - referencing the tradition of furniture upholstery. The tops of the tubes are patterned with a floral pattern that was inspired by Chicago's most iconic designs such as Marina City, the Aqua Building, the Cloud Gate and Navy Pier's Ferris Wheel. The floral pattern in turn brings one back to the typical ideas and patterns used in traditional upholstery fabric.
The seating is sheltered by white plastic trash bags, filled with air, massed and hung to create a dome-like form. These objects of waste–upcycled into beautiful, interesting and functional structures, remind us of the massive amount of trash produced by our society, and the alternative at hand to think in new and innovative ways to find new uses for these objects.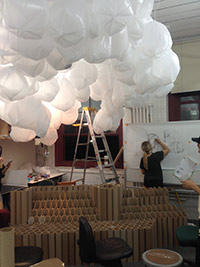 The canopies will also be featured above the ticket and cafe areas to create a visual flow as fair visitors enter the show. The canopies above the seating areas will feature projections aimed onto the surface of the plastic bags. The projections will show the process of creating the lounges themselves.
Project Team
Dina Digiovine-Florence
Hyun Kyu Han
Ga Im Kim
Hyunji Kim
Ji-Eun Kim
Yujin Kim
Ashely Kuo
Jin Yeop Lee
Jessie Lu
Riley Mellon
Jennifer Palomaa
Sran Shin
Kristin Lee
Molly Sherman
Deborah Schneiderman