2015 METRO CURATES REPORTS STRONG SALES AND DEALER ENTHUSIASM
New York: An enthusiastic throng of fair-goers flowed into the 4th edition of the four-day METRO Curates, which opened with a preview on January 21st at the Metropolitan Pavilion in Chelsea. Among the 1,500 attendees were numerous prominent collectors, curators, celebrities and interior designers.
Opening Night Preview
METRO Curates director Caroline Kerrigan reported positive response from attendees as well as participating exhibitors. "It was very gratifying that so many people continue to appreciate the fair's unique, curated approach in which each exhibitor focues his or her point of view by presenting either a thematic or single artist exhibit.
This year, curators from The Metropolitan Museum of Art, The Smithsonian, The American Folk Art Museum, The Wadsworth Atheneum Museum, The Brooklyn Museum of Art, The Nelson Atkins Museum, Shelburne, Newark Museum, The Metropolitan Museum of Art, and The Deerfield Museum were on hand, making their way through the aisles with an eye towards snapping up something choice for their respective museums.
Design Beyond Boundaries panelists Patrick Mele, Sara Gilbane, Wendy Goodman and Antonino Buzzetta
Says Wendy Goodman, the taste-defining design editor of New York Magazine: "The fair is a fantastic opportunity for people to see a wonderful variety of art and also a perfect place to find treasures they can afford and start building collections, and maybe even discover the next big name!" Ms. Goodman moderated a panel discussion, "Design Beyond the Boundaries," featuring Antonino Buzzetta, Sara Gilbane and Patrick Mele, three young up-and-coming designers who talked about collecting trends and how they manifest themselves in their own decorating.
Among the prominent designers were Ellie Cullman, Ronald Bricke, Christopher Boshears, Harry Heissmann, Dennis Rolland, Joanne de Palma, Ronald Mayne and Debare Saunders, Antonino Buzzetta, Patrick Mele, Sara Gilbane, Stephanie Stokes. Other notables included Todd Merrill, Harvey Fierstein, and Jerry Lauren. Also spotted on perusing the aisles were Robert Young, Arie and Coco Kopelman, and Monty Blanchard.
"I can always expect this show to present a superb and unexpected mix of folk, contemporary, and ethnographic material," said Ellie Cullman, an interior designer and collector in her own right.
Here is a sampling of reported sales: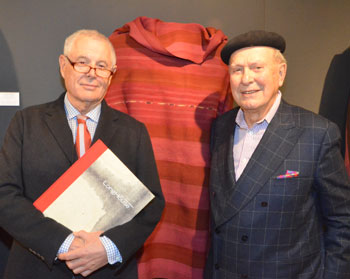 William Siegal with Jack Lenor Larsen
"I had the best fair ever!" said William Siegal, the Sante-Fe based ethnographic specialist. Among his sales were: Olmac mask, circa 500 BC; a 2,000-year old Chinesco ceramic from western Mexico; a small stone Mezeala, also 2000 years old, as well as an Aztec stone bird, 600-800 years old.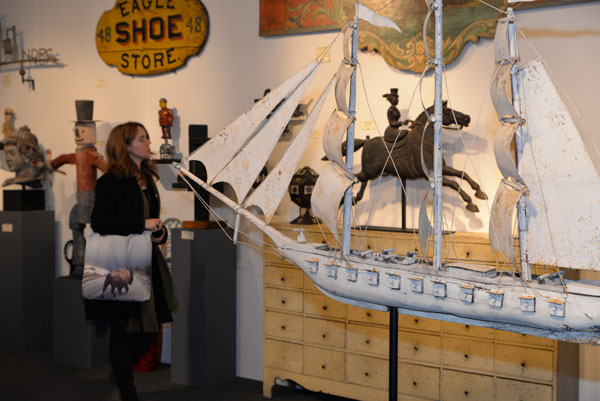 American Garage
Michael Ogle, the owner of American Garage in Los Angeles was very pleased with his first experience exhibiting at Metro Curates. "We sold to our regular clients as well as meeting new collectors and we look forward to returning next year." Among the items he sold were: a late 19th century zinc lined wood box "5000 Cigars" from George T. Warren and CO.; an early 1930s illuminated pool hall trade sign, "Billiards;"a late 19th century large-scale three dimensional solid cast iron crescent moon with detailed face; six turn-of-the-century hand-painted tin spice jars with gilt lettering; a double sided wood sign, "Boarding and Lodging" professional lettering with wide applied flat border, original untouched paint, circa 1930; a cast iron child's carousel house in multiple layers of black and white paint; contemporary stand, circa 1930; a rare 19th century cast iron mooring head in the figure of a young African-American man; a large-scale haberdashery trade sign in the form of a top hat with rolled brim, circa 1930; a double-sided New York "trains" sign in original sand painted surface with gilt lettering, circa 1900; an aircraft engine, circa 1930; and an unusual 3-tier cast iron drafting table, also circa 1930.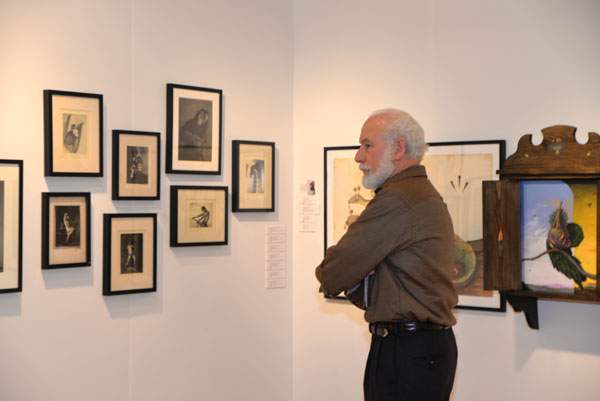 Stephen Romano Gallery
Stephen Romano of his namesake Brooklyn gallery was pleased with the people he met. "They were very engaged and genuinely appreciated the work." Among his sales were: "Anonymous Tantric Painting," by Jain Monk, India, 1980s (gouache on ledger paper) ; and two watercolors by El Gato Chimney, HYDRA 2015; Bird Smoking Pipe, 2015; and "Dance of the Djinns," by Rithika Merchant, a gouache and ink on paper.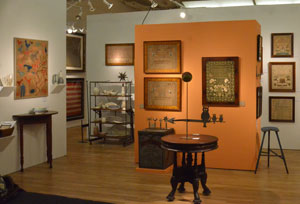 M. Finkel & Daughter
At M. Finkel & Daughter, based in Philadelphia, owner Amy Finkel said that this fair was an "excellent year" for them and reported numerous sales of rare and important samplers as well as other decorative works including: a pair of rare and early work bag panels by Margaret Marshall, 1734, Darby, Delaware Co., PA ; a Fine Linsey-Woolsey sampler by Mary N. Robinson, dated 1808, Marblehead, MA; a rare Shaker sampler by Emily Tinkham, Enfield Community, Conn. Horsham PA; a sampler by Hannah Jarrett, 1798, Montgomery County, PA ; a pair of rare and early work bag panels by Margaret Marshall, 1734, Darby, Delaware Co., PA; a fine New Hampshire sampler by Nancy Wason, age 10, dated 1827; and a Chester Co., PA sampler by Lydia Hewlings c.1819.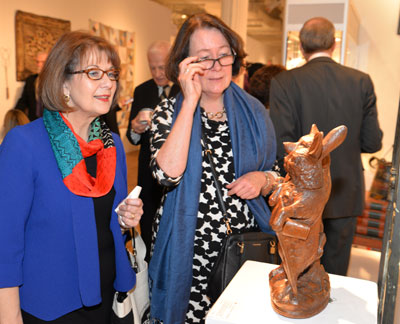 Susan Hoover and Jane Baumgardner in Leatherwood Antiques booth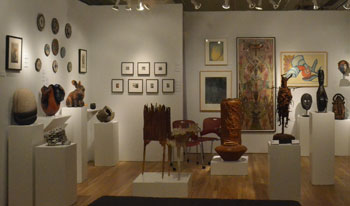 Cavin-Morris Gallery
First-time exhibitor Mo Wasselfish of Leatherwoods Antiques in Sandwich, MA was busy from the time the fair opened until it closed. "I was very excited to meet new collectors," said Wasselfish, who sold a number of items including: an unusual American late 19th century cast iron doorstop in shape of a Kettle; a British polychrome carving of "fitting a shoe," circa 1870; an assortment of Vienna bronzes, circa 1900; an 18th century gourd of a British navel officer; a Norwegian Casa (drinking vessel), dated 1878; and a large watering can, circa 1900.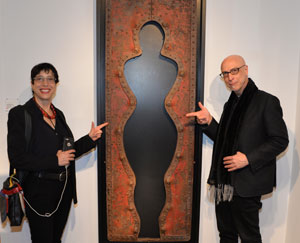 Robin Cembalest and Frank Maresca
Frank Maresca of New York's Ricco/Maresca Gallery said that there had been "good energy" and an "eclectic variety of work being offered." Among their sales were a late 19th century Human Marksmanship Target made of forged and riveted iron with original paint, by S.F. Cody; George Widener's Robot Teaching Puzzle, 2014, mixed media on paper; and a mid-19th century Nautical carving of two woman, by an unknown maker.
Shari Cavin who with Randall Morris co-owns the Cavin Morris Gallery, was pleased with this year's fair and looks forward to returning next year. Among their numerous sales were: "Spirit Codex, No. 16," by Solange Knopf, 2013 Acrylic, colored pencil and graphite on paper; Pascal Oudet's "Medium Natural Bowl," 2014; Sylvain Corentin's "Mountain Chain," 2014; and Melanie Ferguson's "Canyon Girl," 2014, handbuilt stone ware etched through layered underglaze.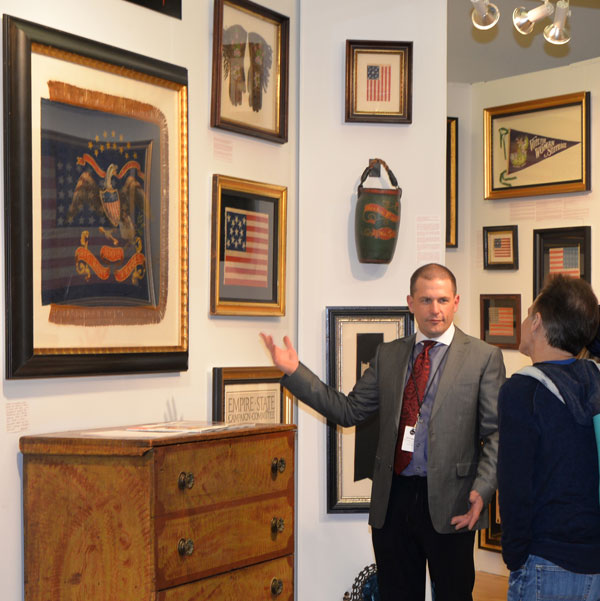 Jeff Bridgman American Antiques
At Jeff Bridgeman American Antiques from Dillsburg, PA Mr. Bridgeman reported brisk sales including a rare and extraordinary Lincoln Portrait Flag, 1860; a pair of Fraktur, 1790 and 1798; a painted firebucket from Mechanicsburg PA, 1810; a cast iron decorated mirror, 1870; two late 19th century Stevensgraphs bookmarks; a flag advertising peace with "Seize Washington" from the Mastai Collection; and an unusual hand-painted wooden game board with a baseball diamond motif.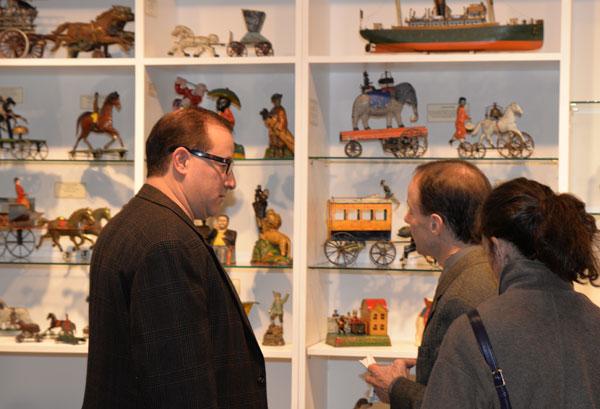 Gemini Antiques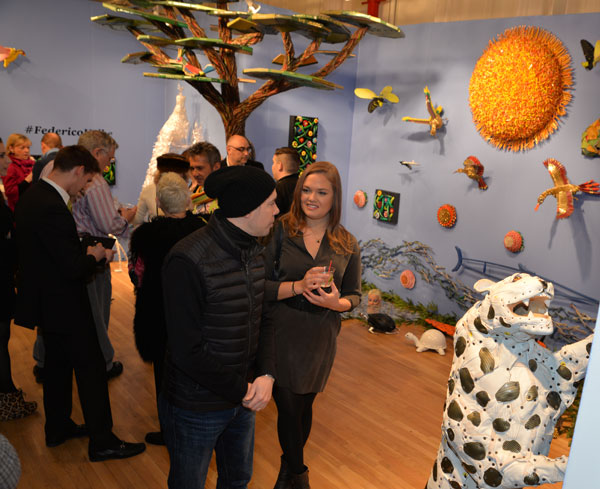 Adelson Galleries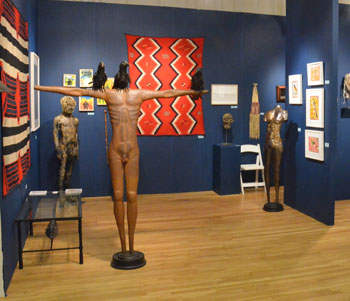 John Molloy Gallery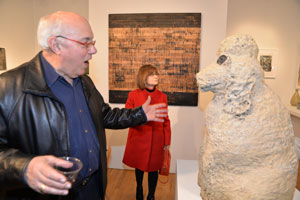 Mindy Solomon Gallery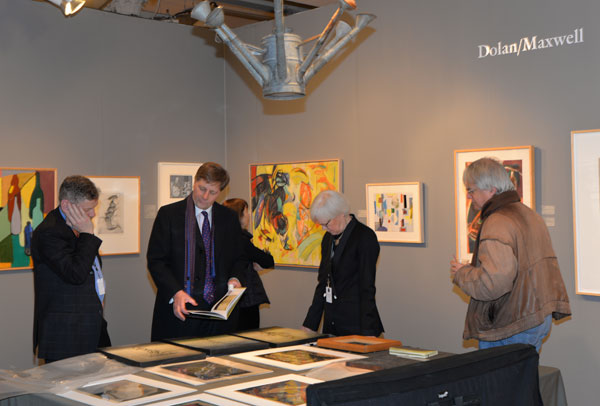 Dolan/Maxwell
Leon Weiss of Gemini Antiques reported over 40 sales during the four-day fair including: sixteen mechanical banks, circa 1870-1920; a Sulky weather vane with Jockey, circa 1880; an exceptional chest of 36 drawers, in original ivory paint, circa 1880; several wooden sculptures; a Barber pole, circa 1880; and a miniature German Bauhaus child's chair with an extraordinary complex construction.

With their single artist presentation of Miami-artist Frederic Uribe, Adam Adelson, of Boston-based Adelson Galleries–a first time participant–said that he was impressed by the opening night crowd, followed by a steady stream of eclectic collectors throughout the fair. A number of Uribe's colorful works were sold including "Hunted Woodpecker," 2015, made of bullet shells and casings; "Dalmatian," 2015 made with colored pencils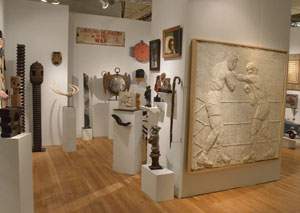 American Primitive Gallery
At New York's American Primitive Gallery, owner Aarne Anton found buyers for: "Playland at the Beach," carved and painted wooden figures made and sold near San Francisco's legendary amusement park, 1930-1940; and a "Horse Bog" shoe, 1890s, from Wisconsin.
At John Molloy Gallery, a shed snakeskin, beeswax and paper skull by Mariano Chavez, 2013 and Mark Kindschi's "People Lamp 1," 2014, found homes.
Marion Harris sold a Black Forest leash holder formed as carved dog's head with glass eyes, 1880 ; a painted French bronze squirrel, 1910 ; and an English brass money box in the shape of a fishing creel, 1875 .
Collectors headed to Mindy Solomon's eponymous Miami-based gallery and picked up Kirk Mangus' "Black Poodle," late 1980's; a painting by Marc Lambrecht, 2010; and Kang Hyo Lee's "Puncheong Big Pitcher" with ash glaze, 2011.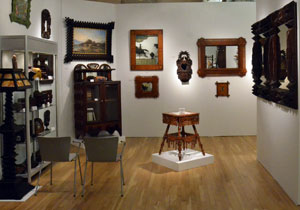 Clifford A. Wallach Tramp, Folk Art & Americana
Two pieces "Butter Starburst" and "Whimsical Bird Tree," by the contemporary tramp artist Angie Dow were snapped up at Clifford A. Wallach Tramp, Folk Art & Americana.
At Fisher Heritage, owner Laura Fisher sold an assortment of hooked rugs, rag carpets, needlework and other textiles.
Paintings, photographs and print specialists also had significant sales. Sold at Dolan Maxwell, the Philadelphia-based gallery, were several acrylic paintings by the Irish painter Donald Teskey; two paintings on paper by Morris Blackburn, 1940, "Study for the Murderer's Music, an oil and wax on canvas by Michael Canning, 2006, and "Phrygian," and an intaglio print by Martin Puryear, 2012; while New York's Kathryn Markel Fine Arts sold Debra Smith's "Restructured Series, #3, 2014," made of pierced vintage kimono silk and men's suit lining and Marilla Palmer's, 'What I found on my walk' 2014.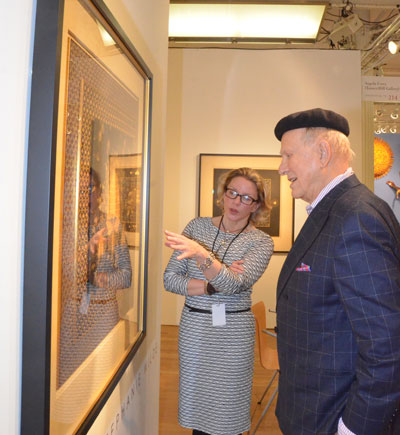 Angela Usrey with Jack Lenor Larsen
First-time exhibitor Angela Usrey introduced the work of Stephanie Wilde who found an enthusiastic audience with her intricate ink, acrylic and gold leaf prints, among them "Beekeeper With Sunflower," 2014.
Tim Hill was pleased to sell six Bill Rauhauser photographs from the 1960's and 70's as well as 4 John Walker paintings, oil on bingo board, 1939.
Carl Hammer Gallery of Chicago sold a painting by self-taught master Bill Traylor "Man Pointing," 1939 – 1942 and Joseph Yoakum "Mt Taum Sank 1772 FT," 1965.
Next year's iteration of the fair will open on Wednesday evening, January 20 and will be open January 21-24, 2016.
CONTINUES